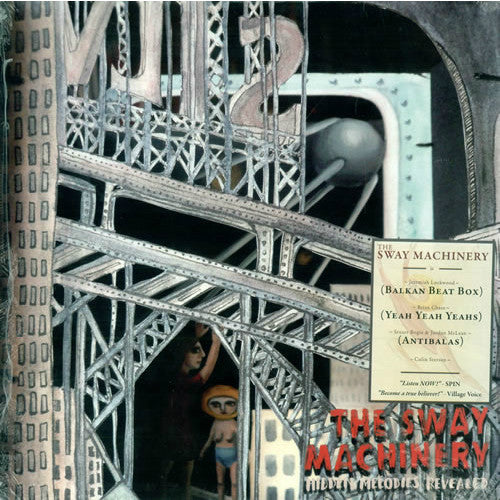 The Sway Machinery: Hidden Melodies Revealed
The Sway Machinery draws on the blues, Afro-pop, funk, and other elements their updated take on traditional Jewish cantorial music.
Flavors from the Balkans, Africa, the Middle East, and North America create a heady concoction on Hidden Melodies Revealed, the New York-based group's debut full-length. Like contemporaries Antibalas and Budos Band, the Sway Machinery favors a bold, complex sound big on horns and polyrhythmic percussion. But it's lead singer Jeremiah Lockwood's passionate, prayer-like singing that gives these songs their unique power. From its big band funkiness to its religious undertones, Hidden Melodies Revealed moves the body and the spirit.
Details & Dimensions
Available for streaming, MP3 download, CD, and vinyl from Amazon.
About the Artist
Jeremiah Lockwood leads the band The Sway Machinery, a world-traveling trance rock band with deep roots in Cantorial music and Blues. A native NY-er, Jeremiah recently relocated (along with wife and two sons) to the Bay Area to work on a PhD at Stanford, studying education and ethnomusicology. Jeremiah is a member of the Reboot Network.
---
Share this Product
---
More from this collection