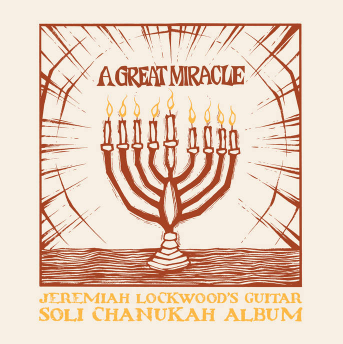 A Great Miracle: Jeremiah Lockwood's Guitar Soli Chanukah Record
As the nights get longer and days get brisker, the feeling of the holidays descends upon us. And with all holidays come the traditions, reflections, smells, sights and sounds that uplift the season, help us greet the familiar time of year.


Reboot Records and musician Jeremiah Lockwood present a Chanukah record that is sure to become a standard in holiday's lexicon. A Great Miracle: Jeremiah Lockwood's Guitar Soli Chanukah Record is a beautiful solo guitar tribute to the holiday. With heartfelt appreciation of the 1968 classic The New Possibility: John Fahey's Guitar Soli Christmas Record, Lockwood has sweetly crafted eight songs, one for each night of Chanukah, to celebrate the dancing candlelight with his new, blues-inspired takes on the most beloved melodies of the holiday's canon. From the prayers for lighting the candles to the kids' songs that are sung around the burning menorah, Lockwood paints the light through the darkness with his instrumental creations.

Lockwood's career has followed a unique path, with deep musical inspiration coming from two mentors. His grandfather Cantor Jacob Konigsberg (1921-2007) infused in him the melodies of the Jewish liturgy, with Lockwood performing in his choir. Lockwood credits his career as a guitarist to a decade-long apprenticeship with the legendary blues musician Carolina Slim, a.k.a. Elijah Staley (1926-2014), who passed down to Lockwood the Piedmont blues tradition of Brownie McGhee and Buddy Moss. Lockwood also leads the band Sway Machinery, which features Jordan McLean of Antibalis and at one point Brian Chase of the Yeah Yeah Yeahs.

A Great Miracle is the ultimate realization of both sides of Lockwood's learning, as he translates the major Chanukah melodies into a blues language, through his fingers and the strings of his Gibson guitar.

Reb Nachman tells of a mystical story around the Dreydl, that it replicates the rotating wheel of creation out of which all things emanate, where the mortal and finite world of human beings meets the infinite. Jeremiah Lockwood's great miracle proves that the best way to start the motion of the Dreydl is through the breath of his guitar as he exhales a new soundtrack for the annual eight-day holiday of Chanukah. 
---
Share this Product