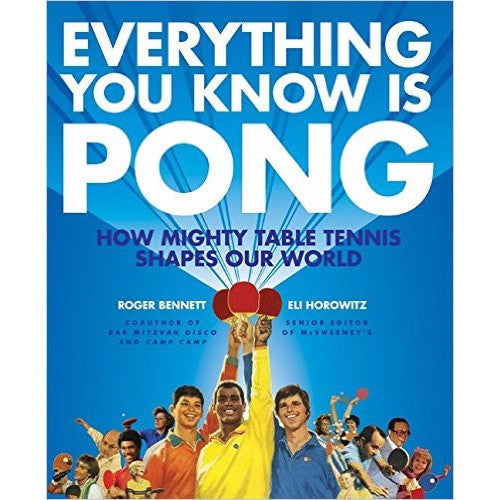 Everything You Know Is Pong: How Mighty Table Tennis Shapes Our World by Roger Bennett and Eli Horowitz
A beautiful tribute to the world's most popular yet least appreciated sport—with tales from Nick Hornby, Jonathan Safran Foer, Will Shortz, and others.
Every sport claims to be the world's game—but none can match the global status acquired by modest, ubiquitous ping pong, the most popular yet misunderstood pastime in the world today. Join us on a journey into the dark corners and distant alleys of this ponging globe, from Bangkok backrooms to New Jersey rec rooms to Beijing stadia. Learn the hidden truths of the world behind the game: the secrets of eternal youth, guerrilla warfare, foolproof seduction, fame and adulation—all explained through two paddles, sixty inches of net, and a bouncing, bouncing ball. Please note: some images contained in this book are of an adult nature.
Details & Dimensions
Available for kindle, paperback, and hardcover from Amazon.
About the Artists
Roger Bennett is a Men In Blazer, as well as a journalist, author, and filmmaker. Eli Horowitz is managing editor and publisher for McSweeney's, an independent publishing house in San Francisco. Roger and Eli are members of the Reboot Network.
---
Share this Product
---
More from this collection