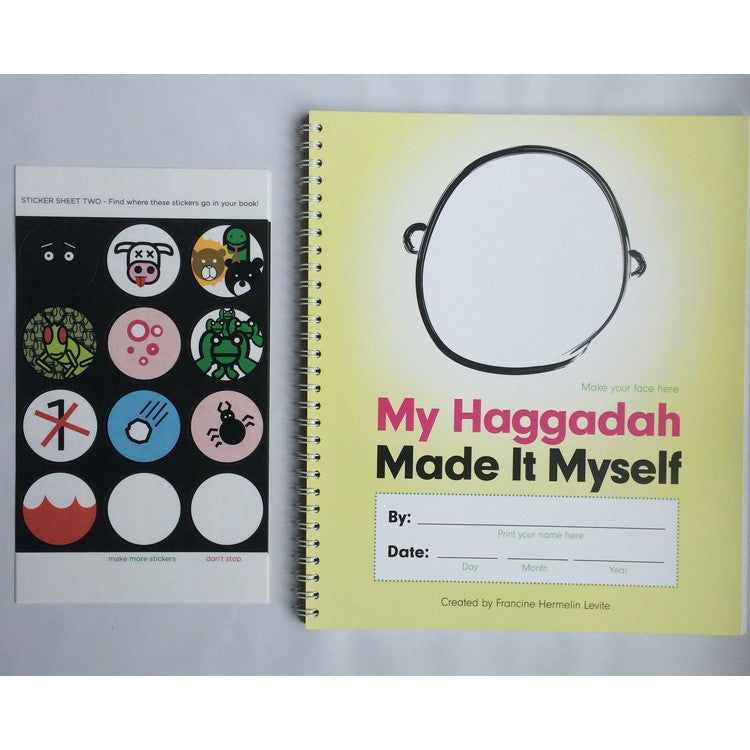 My Haggadah: Made It Myself by Francine Hermelin Levite
The one book you need to create a personalized Seder for the entire family. 
The original DIY family Haggadah, My Haggadah: Made it Myself is packed with nearly 40 pages of open-ended conversation and drawing prompts and stickers to do before, during, or after the seder. My Haggadah: Made It Myself creates the space and expressive opportunities for everyone at the table to unpack the seder's rituals and to personalize their experience through art on the page and lively conversations in the air. From empathy to justice to freedom and celebration, My Haggadah, lets your family's curiosity transform the night and offers a keepsake to treasure. 
Details & Dimensions
Available from Amazon.
Good for ages 4-120.
About the Artist
Francine Hermelin Levite, founder, Made It Myself Books, has a former life in magazines, children's software, graphic design and live event production. Her current life is spent producing DIY political and cultural events for families around social issues. Made It Myself Books was founded to capture and transform children's innate sense of justice into social action through art and language, before their parents inadvertently taught them that life is too busy to stop, be curious, take action and make a difference. Francine serves as the creative director for Reboot and is a member of the Reboot Network.
---
Share this Product
---
More from this collection